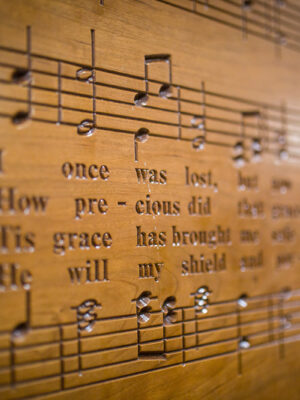 1)      The worship of God's people through the singing of classic and modern songs and hymns in a style that exalts Christ. We believe that music is a gift from God and should be used to communicate the great value that we place on the Father, Son, and Holy Spirit. Colossians 3:16 says, "Let the word of Christ dwell in you richly in all wisdom, teaching and admonishing one another in psalms and hymns and spiritual songs, singing with grace in your hearts to the Lord." We appreciate a variety of theologically rich and melodically pleasant songs regardless of their date of origin. If God has gifted you in music, please speak to one of our pastor's about how you can be involved in the worship ministry at Wayside Chapel.
2)      The public reading of Scripture that correlates with the text that will be preached.
3)      The collective prayer of God's people that focuses on asking for God's will to be done in our lives and for us to be receptive to it.
4)      The giving of offerings in worship to the Lord as the Lord has blessed us. Giving boxes are mounted on the back wall of the sanctuary.
5)      The fellowship of God's people includes the joyous harmony and collective rejoicing that we experience when we come together united by our common belief in Christ.
6)      The preaching and teaching of God's Word at Wayside Chapel is generally a week-by-week consecutive exposition of Scripture through a whole book or section of the Bible. Our goal is not to preach ourselves, but to preach Christ Jesus the Lord (2 Cor. 4:5) so that each person will be equipped to grow in the grace and knowledge of our Lord and Savior Jesus Christ (2 Peter 3:18).